Trey Songz Looking for Love in Upcoming Ratchet VH1 Reality Dating Show "Tremaine the Playboy"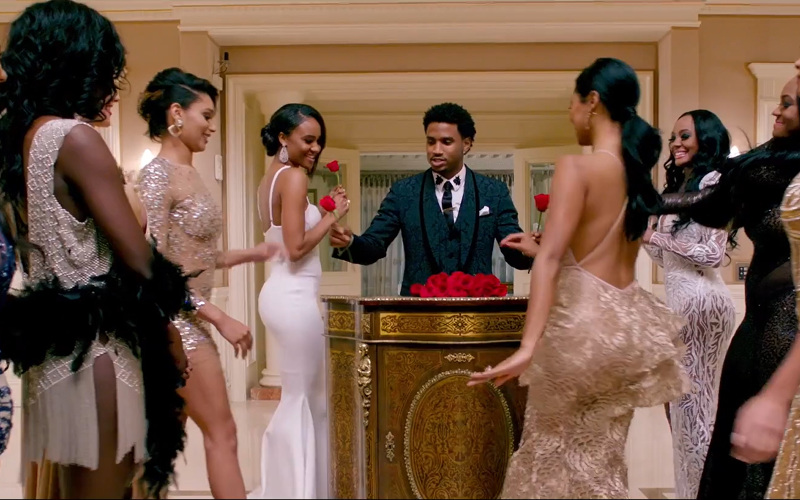 Trey Songz is ready for love and the singer, apparently, thinks a reality dating show is the best way to find his perfect match.
VH1 has released a super trailer for its new show, Tremaine the Playboy. The web series will feature 17 women vying for Songz's heart (or maybe just some late-night fun). The show will be hosted by Draya Michele and Steelo Brim.
Tremaine the Playboy seems to be a ratchet knockoff of The Bachelor à la Flavor of Love and For the Love of Ray J style. And based on the fights, over-the-top antics, and bad acting, I'm inclined to believe both VH1 and Songz are actually going for a parody of such shows. I mean, this has to be a joke, right?
Trey Songz dating show is about to take the crown for VH1 rachetness

— Lionel Dumas (@longlivetheteam) February 7, 2017
So trey songz using vh1 to round up his groupies and getting a check for it Now? Okay pic.twitter.com/vv4Sfa33dK

— Boogie Bousins (@bansky) February 7, 2017
@TreySongz the dating show a joke? Or?

— billy the jamaican (@cracklikeyayo) February 7, 2017
So….are Chris Brown, OBJ, and August Alsina contestants on Trey Songz's dating show? pic.twitter.com/eZLllf2z1h

— Smith, Shea Jordan (@shea_jordan) February 7, 2017
So Trey Songz dropped a reality show before a new album? ?

— Starboy (@AmadorJared) February 7, 2017
The show is part of VH1's #14DaysOfLove, which will offer over 200 hours of love-themed movies and shows until Valentine's Day. Amber Rose will also help introduce the show by sitting down with Songz to find out what he's looking for in a soulmate. They will even play an "intense game" of Never Have I Ever.
I barely could stomach 20 seconds of the trailer, but if this is your thing, Tremaine the Playboy will soon air all episodes on TremaineThePlayboy.com.