WATCH: Katt Williams Roasts "Frank & Wanda" Radio Host on Her Own Show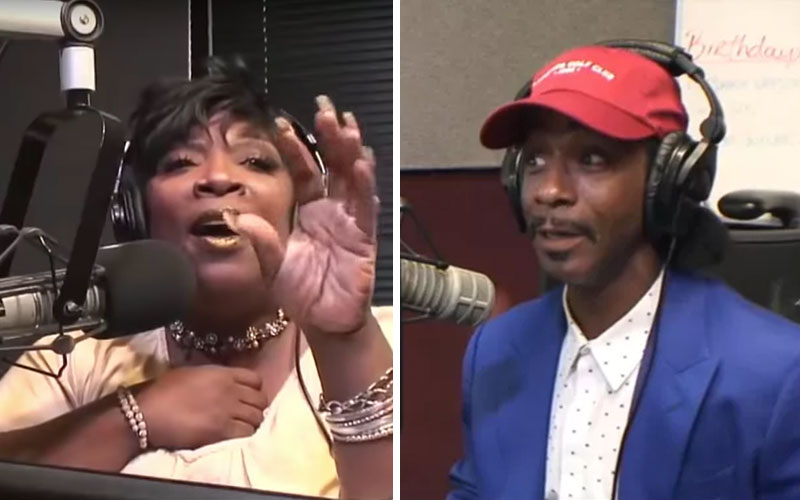 Tiffany Haddish wasn't the only person on the receiving end of a verbal assault from Katt Williams on Friday's (Sep. 14) "Frank and Wanda In The Morning" radio show. The Emmy Award-winning comedian also went in on one of the show's hosts, Wanda Smith.
SEE ALSO: Katt Williams Went IN on Tiffany Haddish & Her "Diseased Vajayjay," Says She Hasn't "Proven Her Ability to Tell Jokes"
It all started when Wanda threw shade at Katt Williams' hair. "Your hair is kinda…" she said before bursting into laughter. Katt, however, was clearly not amused, as he kicked off a roasting session that lasted at least two minutes while her co-hosts laughed hysterically in the background.
Katt Williams roasted the hell outta this radio host who tried to slick dis him ???? pic.twitter.com/f5su2aHzjM

— Tariq Nasheed (@tariqnasheed) September 15, 2018
Katt Williams: "My hair is 19 inches long and I have no perm. Oops."

Wanda Smith: "You don't? That's not a perm?"

Katt: "No, it is is not, nice lady. Come run one of your gnarled fingers … while you're on air, so they can hear you lie."

Wanda: "Come over here."

Katt: "No, no, no… that's now that works."

Wanda: "Oh, OK, well then stay over there."

Katt: "Don't worry, ain't nobody puttin' their hands through yours."

Wanda: "That's right, they don't have to. I don't want them to. Get on out of here! You OK?"

Katt: "Only one of our hair is moving while we talk."

Wanda: "Are you alright this morning?"

Katt: "Tell Wanda to take off them headphones and that wig. That wig and them headphones go together?"
And that was just the first minute! He also called her "The Black Lane Bryant" and told her that he was "not the one" to go back-and-forth with. He also said: "If you can't get your blood pressure down, you can't calm me down. Your cholesterol is 600 … You probably shouldn't talk about sizes. Youg big on the radio."
Wanda responded saying that he was "big in prison," and Katt clapped back letting her know that he's never been to prison, only jail (and there is a difference). "19 felonies, no convictions, knock it off, prison and jail is not the same," he said.
"Only one of us has $12 worth of jewelry on," the comedy veteran added. "If you wanna have Wanda's jewelry, please go to Citgo or QuikTrip at any point."
The clip, which has gone viral on Twitter, ends there, so we don't know what else he said, but those first two minutes were more than enough. "I watched the whole interview. He didn't let up. Straight slaughterhouse," a Twitter user wrote in the video's comments.