Love & Hip Hop's Brittany B Dragged for Her Struggle Vocals After Falsely Claiming She Can "Sang"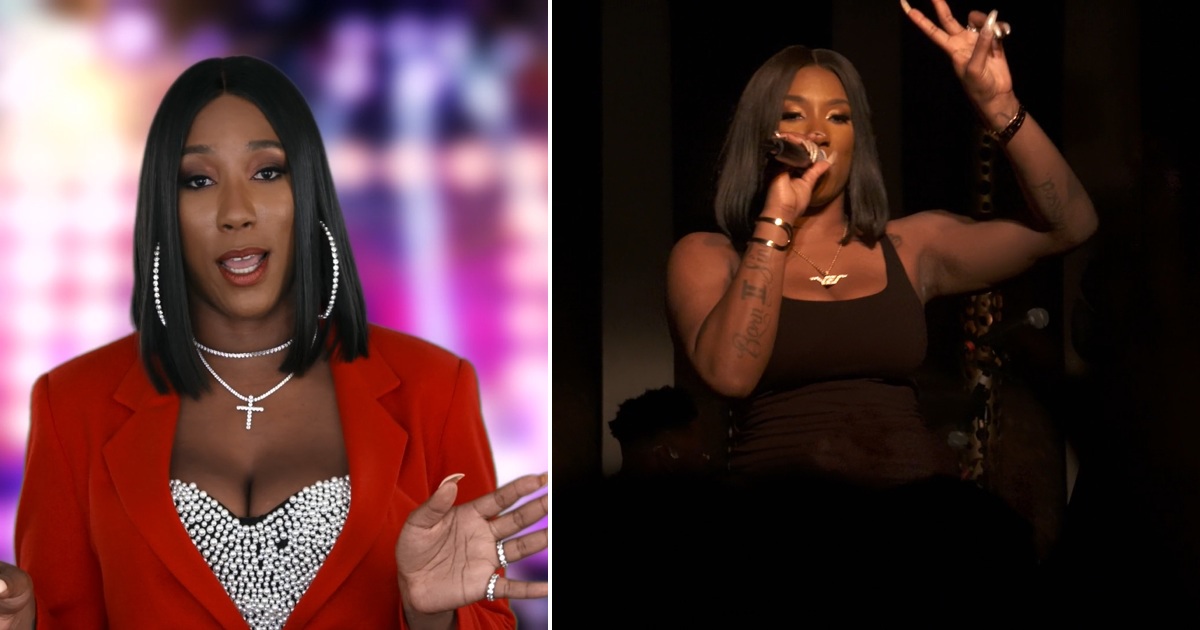 Brittany B is the latest addition to Love & Hip-Hop Hollywood. Though she's a producer and works in A&R, she also wants her own shine behind the mic and has been hyping her own vocals.
The Grammy-nominated songwriter has spent her short time on the show hating on the vocals and talent of her co-star's Lyrica Anderson and Apryl Jones.
But when it was Brittany B's time to sing in front of an audience at Jason Lee's even in the latest LHHH episode … she sounded horrible. Like Erica Mena bad.
"There are people who sing, and there are people who SANG" ?

What do y'all think…does Brittany B. got vocals?! #LHHH pic.twitter.com/if6Efi9BFD

— Love & Hip Hop (@loveandhiphop) September 3, 2019
Brittany claimed she was "sanging" in her confessional, but when that question was posed on Twitter by the official Love & Hip-Hop account, fans dragged her delusional sense of talent and her audacity to come for Lyrica, who actually does have a nice voice (and had the closing performance at the same event).
Brittany B did all this talking to come out sounding like THIS ??? #LHHH pic.twitter.com/mK9I1udeZ4

— Ellen Degenerate (@_prttyunbotherd) September 3, 2019
LMAOOOOOO I KNOW BRITTANY B ASS IS LYING!! Bitch all types of flat & she acting like she is a top tier singer I am THRUUUUU #LHHH pic.twitter.com/di4dyKdZK4

— Hot Girl Jas (@soPOSH_) September 3, 2019
Me looking for these "top tier" vocals Brittany B claimed to have. Seems like she's just hating on Lyrica #lhhhollywood #LHHH pic.twitter.com/H5rsBGmfzr

— Erica Jackson (@Divaez) September 3, 2019
Apryl sound better than you Brittany B….#LHHH pic.twitter.com/1tp3UACM2B

— ???Tina Snow ??? (@BlackMermaid34) September 3, 2019
#LHHH Lmao, I thought Brittany B was really bout to SANG! Chile Naw pic.twitter.com/Kx7dxy0cOD

— First-of-All (@1Rossy_86) September 3, 2019
#lhhhollywood #LHHH

Brittany B judged Lyrica and Apryl's voice…

..And the whole time she sounded like she was whispering with a sore throat pic.twitter.com/SwDeQSIlns

— ?Juke (@jukeMOBS) September 3, 2019
Brittany B u need to hit up Moniece cousin for some voice lessons honey. #LHHH pic.twitter.com/wyTspP8dzD

— Nina Sky (@NinaSky43834564) September 3, 2019
She need to get her ass off stage #BrittanyB #LHHH pic.twitter.com/DNAqG6f5EU

— CaptainOfTheSwimTeam (@circa1980sumthn) September 3, 2019
Brittany was feeling very defensive after being dragged for her vocals and posted several videos back-to-back of herself showcasing selected better vocals with the caption "Who can't sing?"
Who can't sing ? pic.twitter.com/4l88b8PORT

— Brittany B. (@BrittanyB_Music) September 3, 2019
Who can't sing ? #LHHH pic.twitter.com/fk5yPVapDj

— Brittany B. (@BrittanyB_Music) September 3, 2019
Who can't sing ? #LHHH pic.twitter.com/DsWH3vFQet

— Brittany B. (@BrittanyB_Music) September 3, 2019
"At the end of the day, it is what it is," she concluded. But she still challenged her LHHH co-star's to a "sing off."
At the end of the day it is what it is

— Brittany B. (@BrittanyB_Music) September 3, 2019
I aint really friendly with none of these characters either plus I write and sing better than them anyways. They don't want smoke. Let's have a sing off ?????

— Brittany B. (@BrittanyB_Music) September 3, 2019