Lizzo's "Truth Hurts" Remix Featuring DaBaby Has Twitter Divided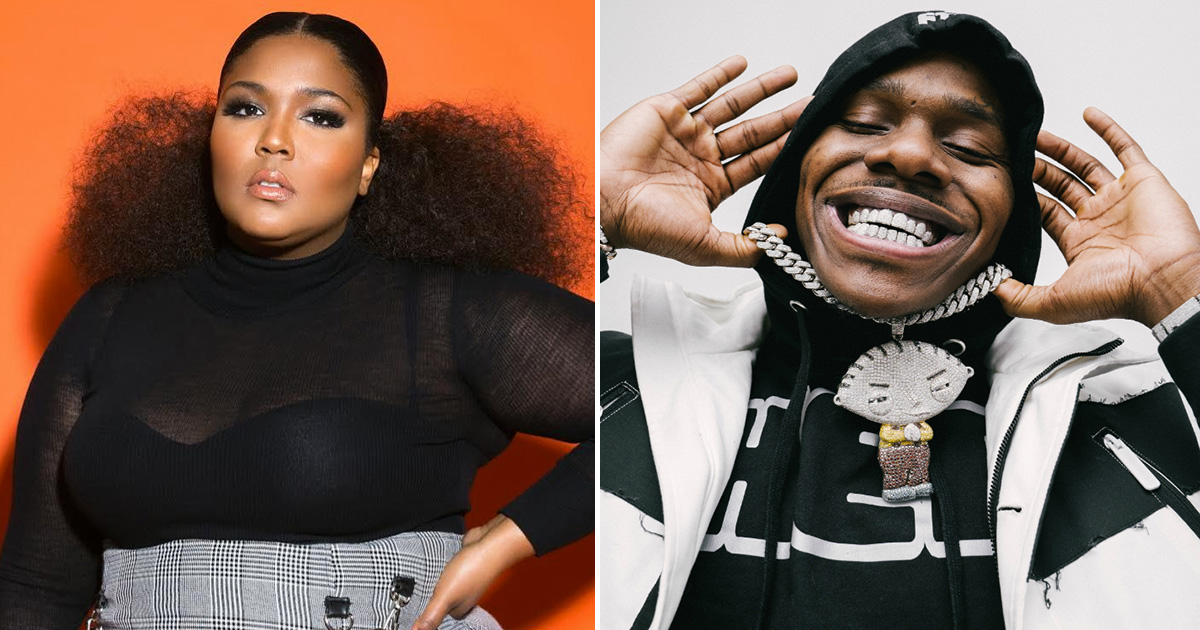 Two of 2019's biggest hip-hop breakout stars, Lizzo and DaBaby, have officially joined forces on the official "Truth Hurts" remix.
As we reported earlier this week, Lizzo teased the collab on Instagram, suggesting DaBaby had something good up his sleeve with the caption: "Why u come fa me like that lmaoooooo."
"I just took a DNA test, and it told me I'm the realest pretty chocolate n***a out here with some good dick, no cap," DaBaby raps after Lizzo's intro.
"And I can have a b**ch from Harvard with a eight-year degree, I probably still would rather pull up with a hood b**ch."
From there, the Billion Dollar Baby Entertainment CEO talks about how Lizzo's friends talk trash about him but "still wanna f**k on me too," and because he feels unappreciated, he wants to "get even," however, he reconsiders once he realizes "she bigger, I prolly lose in a fight."
He ends his verse saying he's still gonna "talk [his] sh*t," but because he's "in love with her big fine ass," he's gonna "do what she like."
While some Lizzo fans instantly fell in love with the remix, others decided they could've lived without DaBaby's braggadocious bars.
Peep the reactions below:
Truth Hurts remix w/ dababy??? pic.twitter.com/OaVU3x3njf

— Chef Curry (@courtniefcurry) August 23, 2019
Omfg DaBaby and Lizzo is the collab I didn't know I NEEDED ???

— ? ?????? ???? ?? (@tayandtots) August 23, 2019
@DaBabyDaBaby just did a feature on 'truth hurts' by Lizzo and it's ???

— ????????? (@Abeldevin_39) August 23, 2019
Idk why DaBaby is like this but I don't ever want it to change ?? https://t.co/INBokyLHsu

— Faye ?? (@_The_RealHer) August 23, 2019
i'm honestly upset that i didn't like this. DaBaby was off beat and made his verse very sexual, which changed the whole meaning of the song. it's obviously just my opinion but i prefer the original and will stan until the end. love you lizzo! ?

— ???Evan??? (@_evandavidson_) August 23, 2019
Dababy really ruined Truth Hurts pic.twitter.com/WcnVTfRzn6

— Jai Pia? (@glociana) August 23, 2019
Dababy needs to learn how to find Dabeat and DaStayonit #Dafuq pic.twitter.com/QrfdeUU6ET

— Stay in some Fresh prints, Carlton Banks sir? (@jaythecapricor1) August 23, 2019
Now Lizzo, you know damn well Da Baby And his 1 flow shouldn't have been anywhere near a Truth Hurts Remix. pic.twitter.com/L6KgpZu94l

— Riley Freeman (@TrillaryBlinton) August 23, 2019
DaBaby added absolutely nothing to #TruthHurts. Still my nigga tho.

— DUFF (@DufftheGood) August 23, 2019
Ladies thought they had truth hurts all to themselves and then lizzo fucked around and got city boys mvp Dababy on there ?

— River Nile (@nileJnich31) August 21, 2019