Kirk Franklin, Gospel's DJ Khaled, Performed "Love Theory" at the BET Awards With Erica Campbell, Kelly Price & Jonathan McReynolds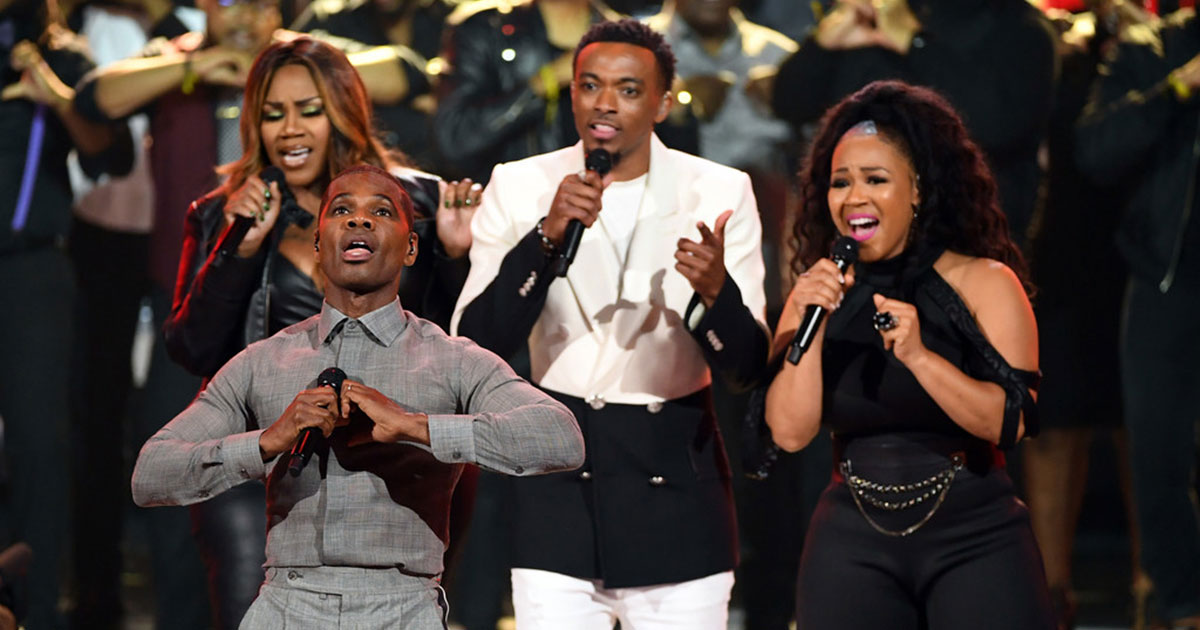 During the 2019 BET Awards last night, people on Twitter were calling Kirk Franklin the DJ Khaled of gospel music, and now we can't get that out of our heads.
Franklin took the BET Awards audience to church Sunday night (Jun. 23) in Los Angeles and was joined by fellow Sunday's Best judges Erica Campbell, Jonathan McReynolds and Kelly Price for a performance of his latest single "Love Theory."
Watch below:
But yeah … back to that Kirk Franklin is gospel music's DJ Khaled thing. Hilarious observation, right?
DJ Khaled is Kirk Franklin's musical tether

— David Dennis Jr. (@DavidDTSS) June 24, 2019
Actually Kirk Franklin is the DJ Khaled of gospel if you think about it . Just be hollering

— ?????? ????? (@RellytheCreator) June 24, 2019
Somebody said Kirk Franklin is just a gospel DJ Khaled and now I cannot rest pic.twitter.com/BcwQvGKn3C

— Kiara (@_Kiaritaaa_) June 24, 2019
Kirk Franklin really just the gospel version of dj Khaled pic.twitter.com/XyJSXrp2mS

— Dae (@dae__g) June 24, 2019
Kirk Franklin The Dj Khaled Of Gospel #BETAwards

— Benjamin Abiola (@SirAbiola) June 24, 2019
DJ Khaled and Kirk Franklin play the same role.

— Marcus A. Ware (@MrMarcusESQ) June 24, 2019
Kirk Franklin is to gospel what DJ Khaled is to hip hop

— Esquire (@blackelle_woods) June 24, 2019
Kirk Franklin was the Gospel DJ Khaled before we even realized it… lol #BETAwards

— Isaac Hunt?? (@Hoodz31) June 24, 2019
Of course, Kirk Franklin's been going strong in the game waaaaayyy longer than DJ Khaled, so maybe we should be saying that DJ Khaled is Hip-Hop's Kirk Franklin?
no, DJ Khaled is the Kirk Franklin of hip hop ? #BETAwards https://t.co/kRJxdwZqBx

— Jontarius Haywood (@jontarius) June 24, 2019
Or is DJ Khaled the Kirk Franklin of the hood? pic.twitter.com/Vt2peTnTPZ

— The Rhythm n Brewz Podcast (@thernbpodcast) June 24, 2019
Kirk Franklin the gospel DJ Khaled. He did it way before Khaled though. And better.

— JaysFitness (@coolassjayy) June 24, 2019