Frank Ocean Disappoints Fans After Showing Up to the Met Gala Looking Like Top Flight Security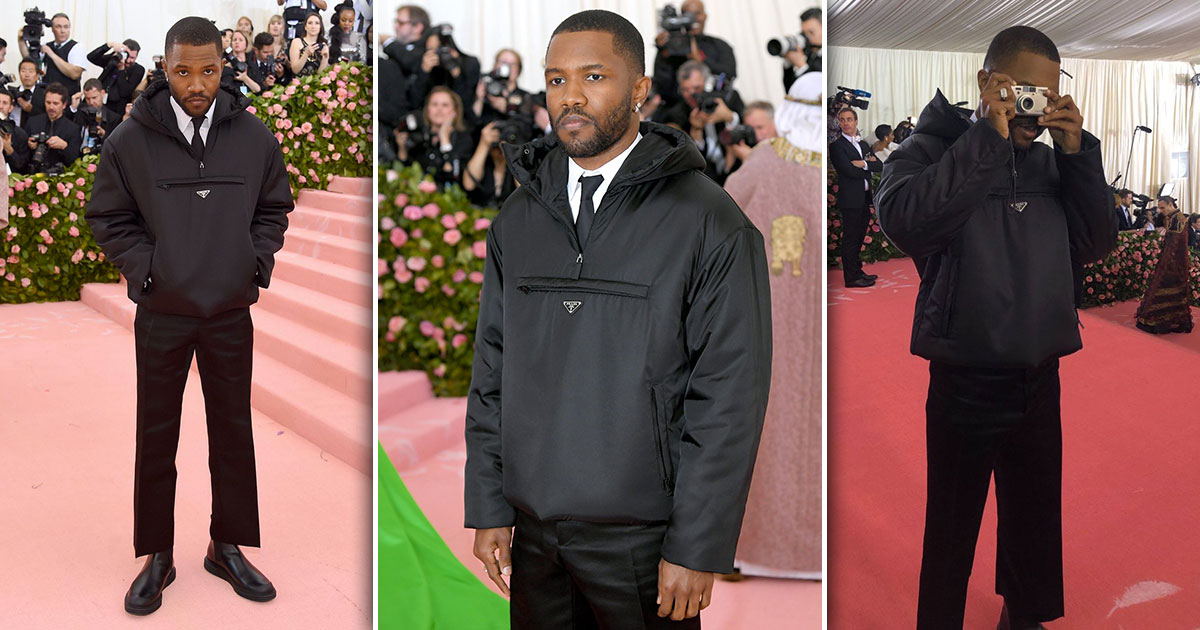 The theme for the 2019 Met Gala is "Camp: Notes on Fashion," which means that everyone's looks are expected to be very grandiose and overly exaggerated … but apparently, Frank Ocean either didn't get the memo or he didn't give a damn about a theme.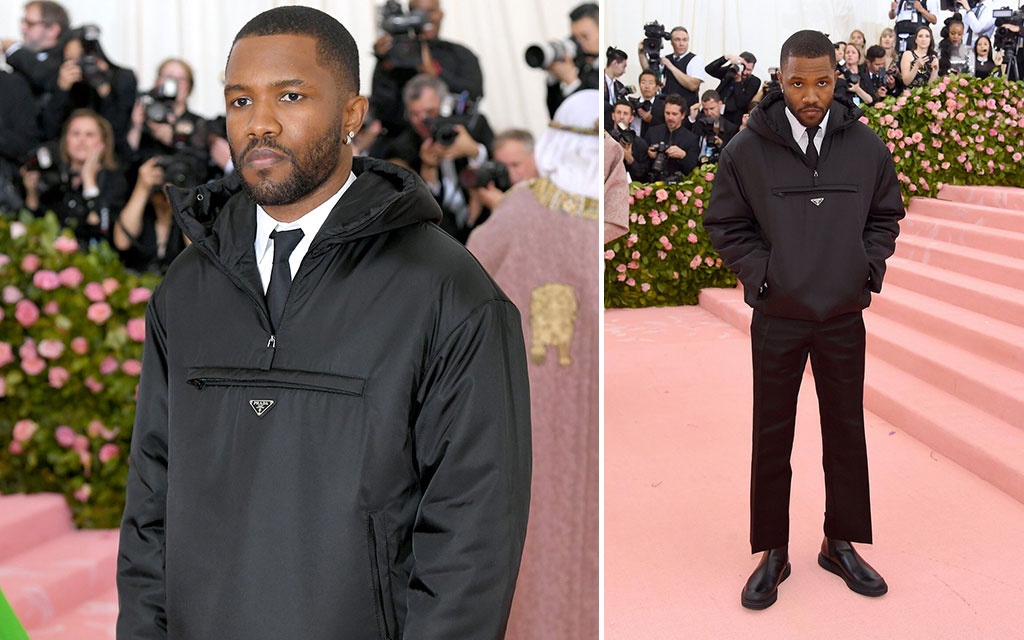 RELATED: Cardi B Shuts Down Met Gala Red Carpet in Massive Red Gown That Took 35 People & 2,000 Hours to Make
While (mostly) everyone else spent the night trying to outdo each other with their over-the-top costumes … Frank Ocean arrived on the red carpet of the annual fashion event at New York City's Metropolitan Museum of Art Monday (May 6) wearing an incredibly boring outfit—a white shirt, a black Prada jacket and black pants cropped to show off big clunky black boots.
In other words, the renown singer/songwriter looked like top flight security, rather than an A-List celebrity at a major industry event.
Frank Ocean has arrived at 2019's #MetGala ceremony ? pic.twitter.com/Id6puOVdyc

— Pigeons & Planes (@PigsAndPlans) May 6, 2019
Fans who expected Ocean to show whole entire a-s-s in some form or another took to Twitter to express their disappointment in his apparent lack of creativity.
frank ocean, who dressed like THIS at his birthday ball in 2017, serving RESOLUTE FUNEREAL NORMCORE in a prada parka at the met gala??? galaxy brain camp????? pic.twitter.com/9a2YcJpR6F

— Rave Sashayed (@_sashayed) May 6, 2019
Did Frank Ocean get a side gig as security? #MetGala pic.twitter.com/rPaQpijYFc

— em (@el_gibbs) May 6, 2019
#MetGala #MetGala2019

Frank Ocean be like: "Theme? Do you want me here or nah?" pic.twitter.com/FCa3wgsrwm

— justAwmn (@fk_right_off) May 7, 2019
tell me why frank ocean is dressed like a security guard at a concert #MetGala pic.twitter.com/D7LbMb32WB

— ikram?? (@whyctrI) May 6, 2019
Darren Criss is straight.
Frank Ocean is gay

Gender expression related to sexual orientation was found dead. #MetGala pic.twitter.com/1UX6yYw48r

— Alex Nelo (@AlexNelo) May 6, 2019
frank ocean said we have food at home pic.twitter.com/qgQFrdXRo9

— ???? ? (@DDAENG69) May 6, 2019
if frank ocean don't take that north face off…

— ???? ? (@kobychill) May 6, 2019
frank ocean just asked for my ID and then laughed at my picture #MetGala pic.twitter.com/PXNIZqBgHk

— kt (@katie_wignall) May 6, 2019
Frank Ocean dressed as security just to escort his ugly ass out #metgala pic.twitter.com/sZqU7Or8CV

— Leon McLeod (@leonmcleods) May 6, 2019
Frank Ocean basically said "f**k the theme"!! #MetGala ..! pic.twitter.com/RzHwEKusXz

— . (@xoyahne) May 6, 2019
king frank ocean defying our expections as per usual #MetGala pic.twitter.com/tCoQMq3TC1

— mclovin (@RAYMARGIELA) May 6, 2019
Frank Ocean really went to the met gala dressed as the security guard #metgala pic.twitter.com/ZsH9m2Oela

— selena (@slut4pasta) May 6, 2019
We get it Frank Ocean, you're different & you go against the expected #MetGala pic.twitter.com/ERFK2abhaV

— ?? (@BITCHAVAGGIO) May 6, 2019
we need SECURITY!!! someone call frank ocean https://t.co/DPzmgwT185

— ????? (@sweetanglbaby) May 6, 2019
Not everyone on Twitter was against Frank's Met Gala look though. Some even suggested everyone calm down on the backlash and just let him be great or else the recluse singer may back into hiding for another several years
"Please don't come for frank ocean he might go into hiding for another four years we just found him," one fan tweeted.
"Frank Ocean is a f**king king and no one can change my mind," tweeted another.
#MetGala please don't come for frank ocean he might go into hiding for another four years we just found him pic.twitter.com/G3YgJT5jcN

— Ella. (@ella34592482) May 6, 2019
me ignoring the fact that frank ocean didn't follow the theme pic.twitter.com/WV7wm4oTok

— ? (@fiImcinema) May 6, 2019
Frank Ocean is a fucking king and no one can change my mind #MetGala pic.twitter.com/C2YGgYFKR6

— J? saw endgame x2 (@Pinkmmatter) May 6, 2019
Last Updated: