Draymond Green Shares NSFW Dick Pic on Snapchat, Continues String of Bad Luck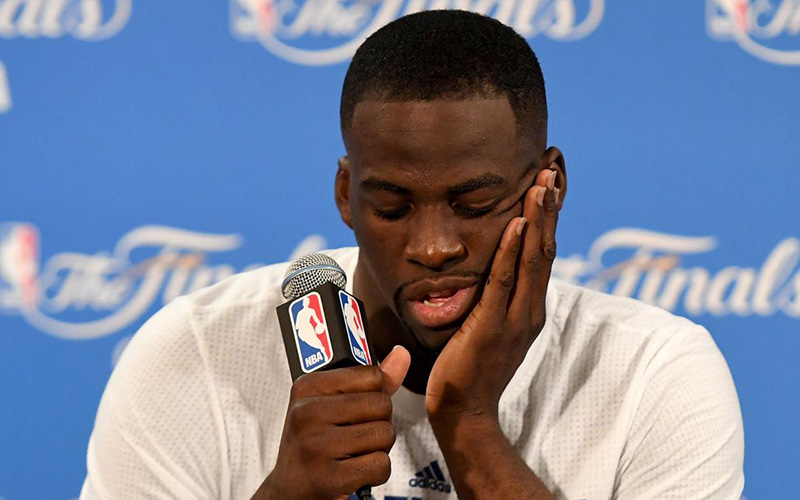 Draymond Green has not been having a good couple of months. First, he was suspended in the Finals which helped the Cavs come back and win the 'ship. Then, he got arrested after slapping a college football player. Now, you can add accidentally sharing a dick pic with the world to his woes.
On Sunday, a definitely NSFW photo surfaced on Green's public stories on his Snapchat account. The picture was obviously meant to be a private message, but as has happened to too many before, he accidentally posted it to his stories instead.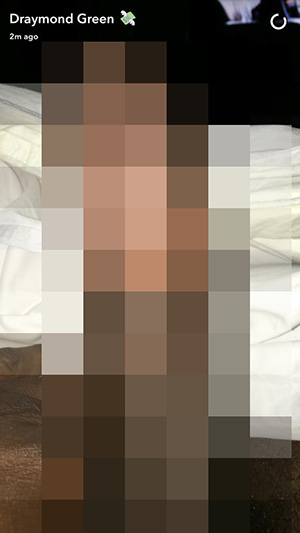 Green quickly tried to play a little damage control by posting the following two tweets.
Hacked….. Can't win right now

— Draymond Green (@Money23Green) July 31, 2016
Lol sheesh

— Draymond Green (@Money23Green) July 31, 2016
Eventually, though, Green realized it was best to come clean, telling reporters "he pushed the wrong button" when using the app. "We're all one click away from placing something in the wrong place," Green added. "I suffered from that this morning."
It didn't take long for reactions to pop up around the internet.
When you realize you posted to my story pic.twitter.com/r0A4UBq13O

— Mike Vernon (@M_Vernon) July 31, 2016
Umm Draymond Green's snapchat tho… pic.twitter.com/J3bfYux81o

— Jasmine (@JasmineLWatkins) July 31, 2016
First thing I see on the TL is a pic of draymond green's thing.. #pause pic.twitter.com/WAAGMpRRHt

— Rick Merritt (@R1ckterScale) July 31, 2016
@Money23Green pic.twitter.com/XaUoyXKUBG

— you know I'm saucy – (@fentyxrih) July 31, 2016
this nigga is a clown??? "@Money23Green: Hacked….. Can't win right now" pic.twitter.com/eMbype83KH

— Luckyiam GO! (@LuckyovLegends) July 31, 2016
@Money23Green at least it wasn't your bootyhole dude. ? pic.twitter.com/QlEKaSkLEw

— LOL (@ANTWANDUNCAN) July 31, 2016
This is the danger of social media and sexting. It's all fun and games until everyone in the country is Googling images of your dick. Hopefully, things will turn around for Green as he goes down to Rio for the Olympics. Just a word of advice, Draymond. Turn your phone off while you're in the Olympic Village.