Does "Star" Season 2 Episode 5 Come on TV Tonight?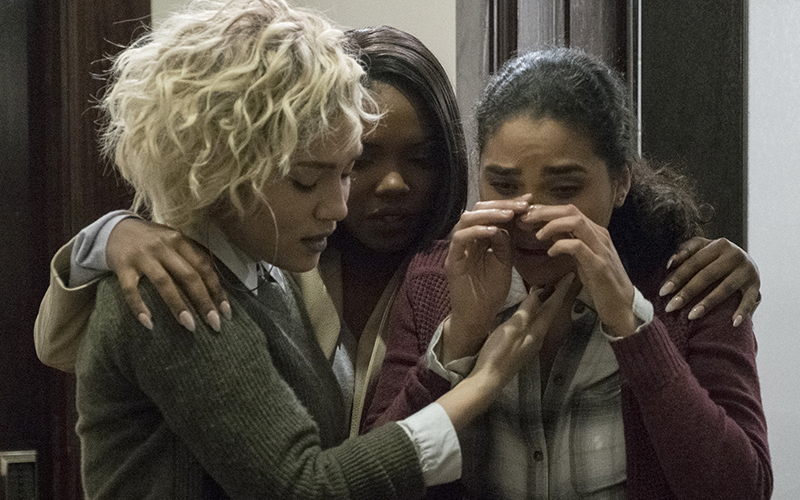 Does a new episode of Star air on TV tonight, October 25th?
Fans of the hit Fox series are wondering if they'll be able to watch a new Star episode tonight, specifically Season 2 Episode 5. Normally, Star airs on Wednesday nights at 9 p.m., however, due to the World Series also airing on Fox, Star is currently on hiatus until the World Series is over.
So, to answer your question, NO, Star will NOT be airing on TV tonight (Wed, Oct. 25).
Fox is airing Game 2 of the World Series between the Los Angeles Dodgers and Houston Astros tonight, so NONE of their regularly scheduled programming, including Star and Empire, will be airing tonight
So, now your next question is most likely, "When is Star coming back to TV?"
Oh Snap! #STAR will be back after the World Series.? Re-live your fave clapbacks on FOX NOW: https://t.co/sgLJX60ATs pic.twitter.com/G7oE7S4JR9

— STAR (@STAR) October 25, 2017
Unfortunately, that's not an easy question to answer, because it all depends on how long the Dodgers and Astros drag this World Series out. According to Star's official Twitter, the show will return "after the World Series."
Tonight is Game 2, and the Dodgers are currently leading the series 1-0. Like the NBA Finals, the World Series is a 'best out of seven game.' So if the Dodgers win tonight's Game 2, Friday's Game 3 (Oct. 27) and Saturday's Game 4 (Oct. 28), then they'll win the series and Star will return to Fox next Wednesday (Nov. 1).
However, if, by some chance, the World Series gets extended to a Game 7, which, if needed, would be Wednesday, November 1st, then that means Star won't be back on TV until the following Wednesday (Nov. 8).
Fans of the show are not happy about this either. Check out some of their tweets below:
Who cares about the World Series I want to see #star ??? pic.twitter.com/Hdti65MXYr

— Jessy (@jsap1986) October 26, 2017
WTF WHO CARES ABOUT A F*CKING WORLD SERIES!!!!??? #STAR #STARonfox pic.twitter.com/xYYn3blpI3

— L.A.N.D5H (@laysia_williams) October 19, 2017
I demand a 2 hour show next time bec this stupid World Series. Like hurry up and wrap it up we got Shows to watch. #STAR #STARonfox

— L.A.N.D5H (@laysia_williams) October 19, 2017
i spent all day thinking #empire and #star were coming on tonight but the world series is on…. pic.twitter.com/wxEiK4GgJS

— choke (@babygirlchiyani) October 25, 2017
This World Series is really messing up my Wednesday, I'm missing Empire and Star?

— Gen? (@gburckhalter_) October 26, 2017
I was fine with sports until the World Series took @EmpireFOX and @STAR out of my Wednesday night

— Abigail Obana (@duh_abster) October 26, 2017
God damn you World Series!!! #Empire #Star

— Melanie ?? (@melaniedeppen) October 26, 2017
Screw the World Series I want to watch Empire and Star

— Christian Sims (@colormedance101) October 26, 2017
I love Houston ..like go Stros and all that but I'm highly upset that @STAR will not be coming on tonight because of the World Series?

— Bri? (@justbeingbri_) October 25, 2017
Right nobody cares about the World Series we're all here for Star!! ? the game should play on a sports channel instead

— WOPTOBER? (@HeyyBigNose) October 25, 2017
But why the World Series gotta mess up the schedule like that…. I was looking forward to star too.

— Yuzori Graham (@yuzorig123) October 25, 2017