"Black Panther" Poster & Teaser Trailer Released, Black Twitter Erupts in Excitement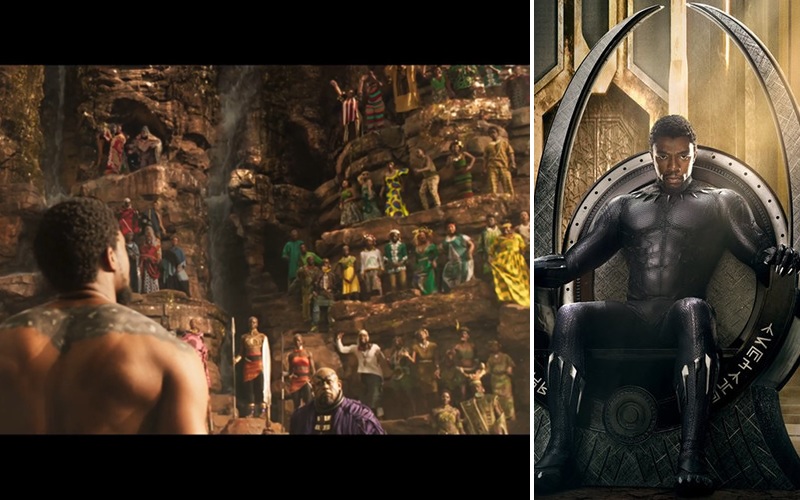 As if the first official poster wasn't enough, Marvel Studios just dropped the first Black Panther trailer. And it looks AH-MAZING!
The two-minute trailer, which aired during Game 4 of the 2017 NBA Finals Friday night (Jun. 9), gives us a glimpse of Wakanda and its newly crowned king, T'Challa a.k.a. Black Panther (Chadwick Boseman).
Though the trailer doesn't offer any plot details, it does suggest T'Challa will be tested as the fictional African nation's new leader. In a voiceover, elder Wakandan statesmen Zuri (Forest Whitaker) tells T'Challa:
"The world is changing. Soon there will only be the conquered and the conquerors. You are a good man with a good heart, and it's hard for a good man to be a king."
When Michael B Jordan looks so menacing you don't realize the star of one of the biggest movies of 2017 is right beside him. pic.twitter.com/7JKDl6VRtL

— Irvin?? (@IRodC) June 10, 2017
We're also treated to glimpses of Erik Killmonger (Michael B. Jordan), an exile who attempts to dethrone T'Challa, and Lupita Nyong'o, who plays Black Panther's love interest and is a member of the Dora Milaje, the king's all-female personal bodyguards. And if you blink, you might miss Angela Bassett, Black Panther's mother.
Looking at Angela Bassett with those white dreads makes me think of what we could have had if she was Storm. #BlackPanther pic.twitter.com/n1aESxwvz0

— Denizcan James (@MrFilmkritik) June 10, 2017
The trailer was preceded by the release of the first official poster.
Check out the new @MarvelStudios #BlackPanther poster & watch game 4 tonight for the premiere of the teaser trailer! Witness the legend pic.twitter.com/wQZO8iPO8O

— Marvel Studios (@MarvelStudios) June 9, 2017
The poster and trailer combo got Twitter (Black Twitter, especially) extra hyped for the already highly-anticipated film, which features a predominately black cast and is the first superhero film with a black superhero lead.
Black Panther gonna be so fire bruh omg pic.twitter.com/KsOSaMQpn3

— OBINNA. (@ObiTooChill) June 10, 2017
this bit of the black panther teaser trailer had me sweating, look at those queens pic.twitter.com/DAmc8u3xko

— carol îmwe (@carxlinv) June 10, 2017
Black Twitter praying 45 doesn't get us blown up before we get to see Black Panther pic.twitter.com/dA3L8UVjta

— Twin Butterflies (@YonceHaunted) June 10, 2017
"Black Panther" is gonna be the best movie of the year. It has to be

— Briana?? (@_FashionKILLAHH) June 10, 2017
Me going to see Black Panther in February pic.twitter.com/sCoCbkK341

— Ash Money Records (@LightsPlease___) June 10, 2017
What y'all wearing to go see Black Panther movie?
Me: pic.twitter.com/OekDgUCFKu

— Carmichael (@CHEFCASH_) June 10, 2017
Actual footage me watching the Black Panther trailer #BlackPanther pic.twitter.com/d7T6W4nRaP

— Yara shahidi (@YaraShahidi) June 10, 2017
how we stepping into the black panther premiere pic.twitter.com/yT4MK9n07Q

— tweet unavailable (@unknwnerr) June 10, 2017
I can't wait to see Black Panther — that trailer is incredible.

— deray mckesson (@deray) June 10, 2017
Black Panther already the best movie I've ever seen.

— issa husband (@tdouble_u) June 10, 2017
me looking for these all Black screenings for Black Panther pic.twitter.com/XxXEVcFQ9d

— Lauren Chanel Allen (@MichelleHux) June 10, 2017
This already feels like the greatest movie I've ever seen. #BlackPantherSoLit #BlackPanther pic.twitter.com/BB6MKMeoNS

— Low-Key Lyesmith (@QUEcified) June 10, 2017
My Black Panther outfit is going to be so extra… pic.twitter.com/luQ4QoeXzP

— Mikki Kendall (@Karnythia) June 10, 2017
Everyone after the Black Panther teaser dropped. #BlackPanthersoLit pic.twitter.com/zLeUxUpzZL

— Geeks of Color (@GeeksOfColor) June 10, 2017
Though we may want the film now, unfortunately, there's a long wait until the Ryan Coogler directed film hits theaters. Black Panther will be released February 16, 2018.
At least we have ample time to plan out outfits.
"Black Panther" Poster & Teaser Trailer Released, Black Twitter Erupts in Excitement is a post from: Gossip On This – Pop Culture, News, Videos & Humor